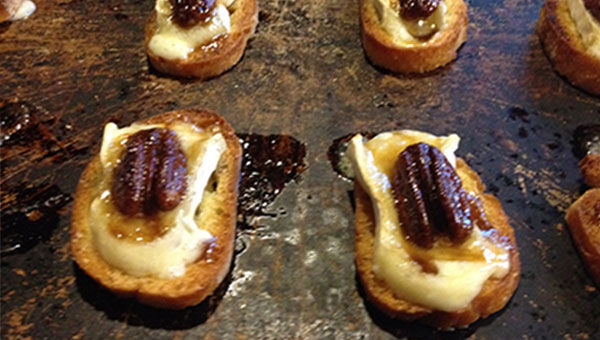 Brie With Iced Pear and Pecans
Warm, luscious and a seductive partner with wine.
Makes 10 to 15 servings
1 small round of Brie
1/2 very ripe pear, sliced in half
1/4 cup (60 mL) toasted pecans
1 tablespoon (15 mL) brown sugar, packed
1 teaspoon (5 mL) Ice Syrup
2 teaspoons (10 mL) Balsamic vinegar
In bowl, combine pears, toasted pecans, brown sugar and Ice Syrup.
Cut off top rind of brie and discard. Slice the wheel of brie in half horizontally and remove top half. Place bottom brie on baking sheet; spread with half the ice pear mixture. Place the top layer of brie over ice pear toping and spoon remaining ice pear mixture. Bake in 350F (180C) oven for 5 to 10 minutes or until cheese is sufficiently softened. Transfer to a warm platter and drizzle with balsamic vinegar. Serve warm surrounded with crackers or fresh crusty bread.