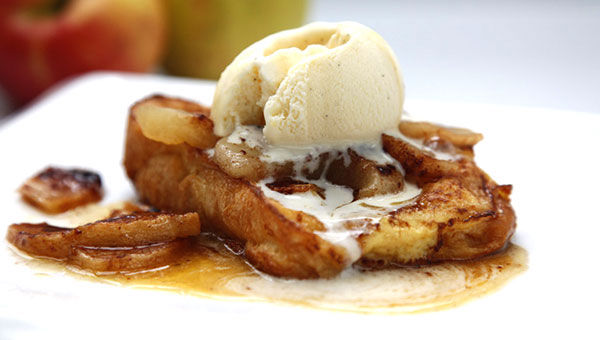 Egg Toast With Ice Syrup & Carmelized Apples
A rich, decadent and sweet start to the day.
Serves 8
4 tablespoons (60 mL) unsalted butter
1 cup (250 mL) granulated sugar
1 tablespoon (15 mL) ice syrup
3 large apples, peeled, cored, and sliced
4 1-inch thick slices egg bread
2 large eggs 1/4 cup (60 mL) milk
1 teaspoon (5 mL) vanilla Butter for frying
Heat oven to 450F (230 C). In a skillet, add butter sugar and ice syrup. Over medium heat, cook, shaking the pan occasionally (don't stir), until the sugar melts into the butter and the mixture bubbles. Cook, swirling the pan occasionally for another 5 minutes. Meanwhile, add the apples to a 8x10-inch baking dish and pour caramel sauce over top. Bake for 30 minutes or until the apples give up their liquid and it evaporates and the sides of the mass are dark brown and sticky looking. This could be considerably longer depending on the water content of your apples. Remove from oven and let cool.
Meanwhile, in a shallow mixing bowl, whisk together the eggs, milk and vanilla. Quickly dip slices of egg bread in egg mixture, careful not to let it soak up too much. Transfer to a skillet and cook over medium heat until slightly browned on both sides. Transfer to a baking pan in single layer and pop into the oven for the last 10 minutes of the caramel apples baking time. Remove both from oven and serve hot with vanilla ice cream and drizzle with plenty of ice syrup.