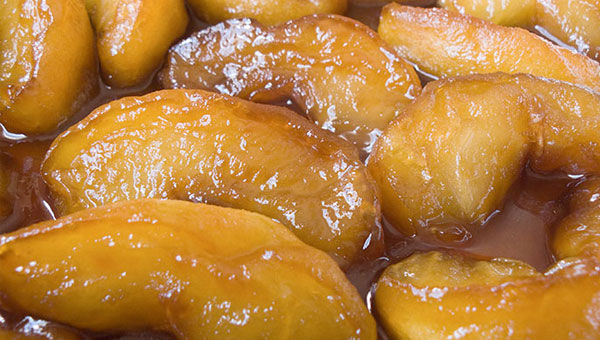 Ice Syrup Carmelized Apple
Submitted by: M. Berlis (NOTL, ON)
INGREDIENTS:
2 tbsp lemon juice
3 Granny Smith apples
1/4 cup unsalted butter
1 tsp 5-spice powder
1/4 tsp salt
1/4 cup Ice Syrup
Add lemon juice to large bowl of cold water. Peel and core apples, cut into 12 wedges, and add them to water. In large skillet, heat butter over medium-high heat. Add 5-spice powder and salt, and stir for 1 minute. Drain apples on towel. Add apples to skillet and cook. Turning often, until almost tender (3-5 minutes). Add Ice Syrup to skillet, and cook for further 3-5 minutes, turning often, until apples are tender and caramelized. Remove from heat. May be served with seared foie gras, cheese, or ice cream.