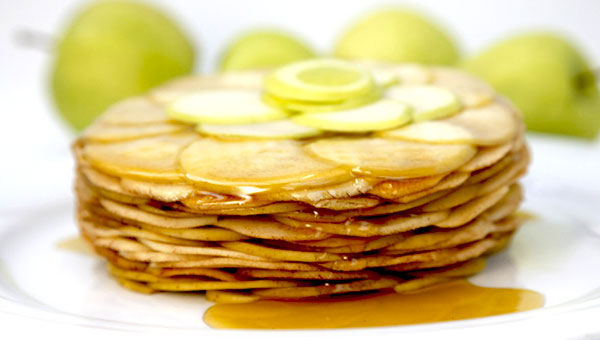 APPLE ICE TERRINE
Baked sweet apple gushing with luscious ice syrup and cinnamon.
Makes one terrine
3 tablespoons (45 mL) water
3/4 cup (160 mL) sugar
2 tablespoon (30 mL) Ice Syrup
2 tablespoons (30 mL) ground cinnamon
1/2 cup (125 mL) brown sugar, packed
8 apples (peeling is optional)
Preheat oven to 300F (150C). Bring water and sugar to a simmer in a small saucepan over medium-high heat, stirring until sugar dissolves. Cook, swirling pan periodically until mixture turns dark amber. Remove from heat and add Ice Syrup. Pour into a 6 1/2-inch springform pan, swirling to coat bottom and sides.
Place cinnamon and brown sugar in a small bowl and mix well. Set aside. Start with 3 apples (to prevent them browning as you work). Using a mandoline or sharp knife, cut the apple into thin circular slices on one side, turn it around and make thin circular slices on the other side. Repeat with remaining apples.
Arrange 1 layer of apple slices in a tight, overlapping circle in the springform pan, covering the bottom completely. Sprinkle with 1 tablespoon of the cinnamon/sugar mixture and 1 teaspoon of Ice Syrup. Arrange next layer of apple slices in a tight, overlapping circle and sprinkle with 1 tablespoon of sugar mixture. Repeat slicing and layering with remaining apples and sugar/cinnamon mixture. Sprinkle Ice Syrup only on every second layer. Leave 1/2 inch of space at the top of pan.
Cover top and bottom (to catch the drips) of pan with foil. Place in a large roasting pan, and transfer to oven. Carefully pour boiling water into pan to come halfway up sides of springform pan. Bake for 1 1/2 hours or until apples are soft through. Transfer to a wire rack, uncover top foil and remove pan from bottom foil and reserve sauce. Let cool for 20 minutes.
Meanwhile, pour sauce into a small saucepan, and boil until slightly thickened, about 5 minutes. Place a pie dish or a rimmed plate over the springform pan and quickly invert. Remove springform pan. Slice terrine and serve with warm sauce.