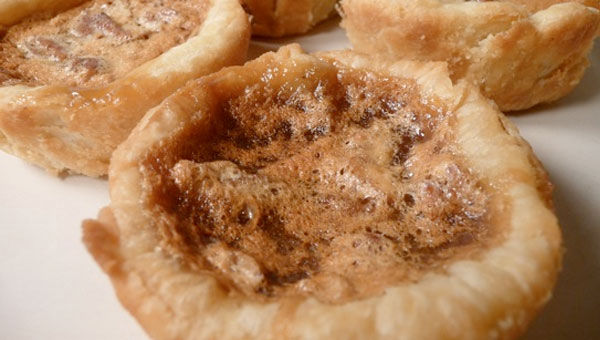 ICE SYRUP BUTTER TARTS
c/o Jane Davey (Carlisle, Ontario) and Mabel Davey (Burlington, Ontario)

FILLING:
1/2 cup butter, melted
2 cups brown sugar, packed
2 eggs
1 T vinegar
1/4 cup corn syrup
1/4 cup ICE SYRUP
1 1/3 cups sultana raisins, plumped with hot water
Add brown sugar to melted butter. Beat eggs and add to brown sugar mixture. Stir in remaining ingredients.
PASTRY:
Use your own recipe or follow the directions for "Perfect Pastry" on Tenderflake Pure Lard package.

Preheat oven to 425F. Fill tart tins, lined with pastry, almost to the top. Place on middle oven rack.
Bake for 10-15 minutes until filling bubbles. Reduce to 350F for 15-20 minutes or when pastry is golden brown.