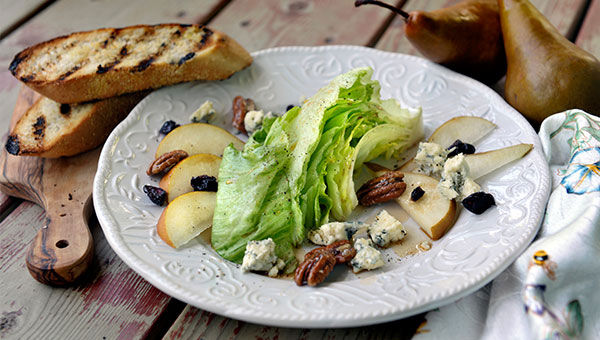 Pear & Blue Cheese Salad
INGREDIENTS:
¼ cup walnut pieces
1 ripe pear, quartered and cored
2 tbsp lemon juice
4 tbsp Vidal Ice Syrup
1 tsp finely chopped shallots
Salt & pepper
1 head frisee lettuce
2 oz (60g) blue cheese, crumbled
Preheat oven to 350F. Place walnuts on baking sheet and bake for 8 minutes until toasted. Reserve.

Thinly slice pear and place in bowl with lemon and Ice Syrup. Toss to coat. Let rest 2 minutes, and drain, reserving liquid.

Combine Ice Syrup mixture with shallots and toasted walnuts. Season with salt and pepper.
Toss lettuce with Ice Syrup dressing. Divide between four plates, and top with pear slices and crumbled cheese.