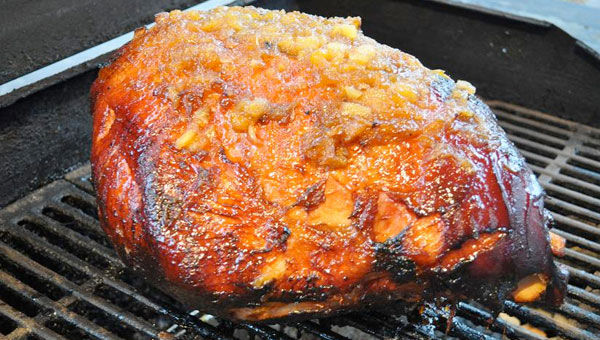 Iced Ham
Caramelized syrup encrusted succulent ham
Serves 8 to 10
1 country-cured ham
2 bay leaves
1 onion, peeled and stuck with 2 cloves
3 cups (750 mL) Vidal wine
3 tablespoons (45 mL) brown sugar
1 teaspoon (5 mL) ground cinnamon
1/2 teaspoon (2.5 mL) ground nutmeg
2 tablespoons (30 mL) Ice Syrup
Whole cloves
Soak the ham for 24 to 30 hours in cold water to cover. Drain. Place in a kettle or roasting dish with close fitting lid. Tuck the bay leaves around the ham, add the onion, Vidal and enough water to cover. Bring to a boil, cover and simmer very gently for 2 1/2 hours or until large bone in heavy end of ham becomes loose and protrudes.
Lift the ham from the stock and place in a roasting pan to cool. Meanwhile, mix the brown sugar, cinnamon, nutmeg and Ice Syrup to form a paste. As soon as the ham is cool enough to handle, remove the skin and with a sharp knife, make diagonal cuts 1/8-inch deep and 3/4-inches apart in the fat layer to make a diamond pattern. Rub in the Ice Syrup paste and stud with cloves.
Preheat the oven to 375F (190C). Pour the cooking stock around the ham in the roasting pan to a depth of 1/2-inch. Bake, basting occasionally for 20 to 30 minutes or until the coating looks crisp and golden. Serve hot or cold, sliced thinly with seasonal vegetables and iced apple sauce.
Iced Apple Sauce
1 1/2 cups (375 mL) apple sauce
2 tablespoons (30 mL) Ice Syrup
Place the apple sauce in a large square of cheesecloth. Draw in the corners and tie with kitchen string. Hang the applesauce to drain for 1 hour. Transfer applesauce to a bowl and add Ice Syrup. Mix well and refrigerate until ready to use.