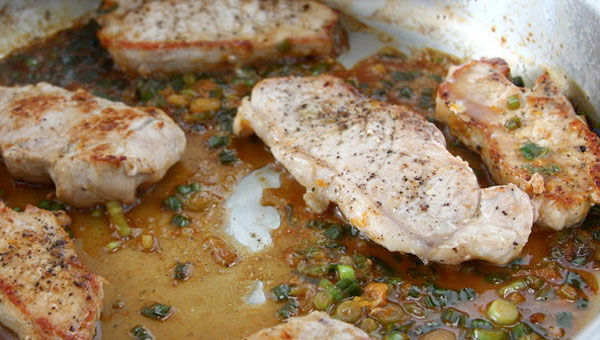 Vintage Pork Au Jus
Juicy pork, crispy sage chips and Ice infused au jus.

Serves 4
INGREDIENTS:
4 thick, juicy pork chops, butterflied
Salt and freshly ground pepper
4 tablespoons (60 mL) unsalted butter
6 tablespoons (90 mL) olive oil
4 shallots, peeled and minced
18 fresh sage leaves
1/2 cup (125 mL) Ice Syrup
Season chops generously with salt and pepper.

In large skillet, heat butter and half the olive oil until hot.

Add pork and cook over medium high heat until browned on both sides, about 10 to 12 minutes.
Remove and place on a warm platter. Drain the excess oil from the pan.

In the same saucepan, heat the remaining olive oil over high heat.

Drop a few sage leaves in the hot oil and leave them until crispy, about 30 seconds.
Remove carefully and drain on paper towels.

Continue with remaining sage

Add shallots and sauté until wilted, about 2 minutes.
Add the Ice Syrup and reduce over low heat until the sauce thickens.