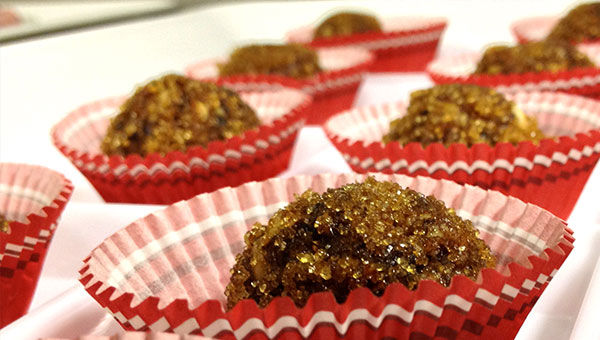 Ice Syrup Sugar Plums
This holiday recipe harbours its traditional roots—then adds a dash of ice syrup—using the classic variety of spices and flavors to create a unique taste experience that is anything but average.

Makes about 45

175 grams toasted almonds
1/4 cup icing sugar, sifted
1/2 teaspoon fennel seeds, toasted
1/4 teaspoon caraway seeds, toasted
1/4 teaspoon ground cardamom
1/8 teaspoon fine sea salt
120 grams prunes
120 grams dried figs
100 grams dried apricots
1/4 cup Vidal Ice Syrup
About 1 cup demerara sugar

Put the almonds, icing sugar, fennel seeds, caraway seeds, cardamom, and salt in a food processor. Pulse about 10 times until the almonds are in small pieces. Add the prunes, figs, apricots, and Ice Syrup. Process just until the mixture starts to stick together and ingredients are blended, about 2 minutes. Let stand about 30 minutes (this reduces stickiness).

Using your hands, pull off 1-inch sized pieces of the mixture and roll in a ball between your hands, then roll in the demerara sugar. Sugar Plums get better with age, so for best results, store in a single layer in a sealable container in the refrigerator for up to a week before serving.