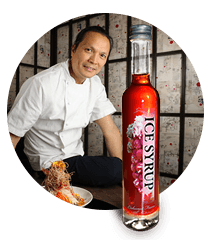 The Strategy
expand the palate
While Murdza has a big vision, he's starting off small, diligently pitching his product to gourmet food shops, wine critics and prominent chefs. In an effort to promote the syrup as a cooking ingredient, Murdza strategically distributed bottles to local chefs with the hopes they'll come up with unique uses for it. The sweet treat has already garnered interest from top Toronto chefs Susur Lee -- who has endorsed the product -- and Mark McEwan.

When asked how he likes to use Ice Syrup in cooking, Murdza recommends brushing pork tenderloin with a mixture of two tablespoons each of Ice Syrup and olive oil just before placing the meat on the grill. "The syrup adds complexity to any dish", notes Murdza. "It's not so strong that it takes over; rather its unique balance of sweetness and acidity provides a very interesting layer of flavour", he adds, fondly remembering the results when Susur Lee drizzled Ice Syrup over a cooked, chili-glazed Ontario Bosc pear garnished with blue cheese and sweet cream.

"There's no strict use for this syrup, it has multiple uses and when you talk to a foodie person, right away they start to bring their own ideas to it," he said. "And that's what I think it'll take for this product to really take off -- people adopting it for their own use and own creations."